Wednesday, March 09, 2005
DISCUS & the 4-quad chart
The DISCUS (distributed innovation and scalable collaboration in uncertain settings) project has been the subject of experimentation and a series of posts over the last few weeks, but IlliGAL Blogging has been somewhat remiss by not discussing the theoretical and computational underpinnings of that project more fully. The project dates to some work with Alex Kosorukoff (see Alex's Free Knowledge Exchange work that goes back to 1997) published at the 2002 GECCO conference (see paper here).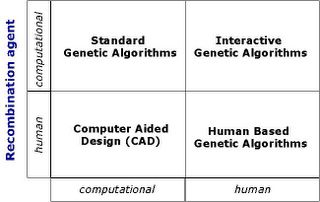 Who creates and who chooses. A 4-quad chart clarifies different types of GA.

The universe of concern is reasonably fairly but simple captured in the diagram above. The y-axis considers whether a human or computer is the innovating (recombinative in the diagram) agent, and the x-axis considers whether a human or computer is the choosing (selection) agent
This decomposition of the problem yields 4 quadrants worthy of our attention. For example, C-C (computer as innovator and chooser) is a regular run-of-the-mill GA with computational fitness function and genetic operators. The H-C quadrant (human chooser, computerized innovator) is an interactive GA. DISCUS is a hybrid of all four quads arranged systematically to organize the thoughts of a core innovation team (of humans), computational agents, and human stakeholders affected by and affecting a design effort. More DISCUS publications and presentations are available here.
Comments:
Private labelling and niche Blog strategy...
You may have a bunch of products with private label rights sitting on your desktop with no use.
I'll show you how to quickly turn the private label content into some nice Adsense and affiliate income.
What you'll need is:
1.) Content (taken care of)
2.) Blog (very simple)
A Blog is just a form of content management and publishing platform. You no doubt have heard about the benefits of using blogs for search engine traffic.
Google, Yahoo and MSN (the big 3) gobble up Blog content like a feeding frenzy.
Simply set up a WordPress Blog, add the private label content as posts on those blogs and watch as the search engine spiders take over your visitor stats and drive your rankings through the roof!
Then apply for the Adsense program through Google and place the ads right on your blogs.
Get more details on this method here:

http://www.ebooks-marketplace.com/elite.html
Post a Comment
<< Home